London bridge: Four designs shortlisted
18 March 2015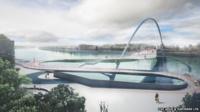 Ove Arup & partners Ltd had two designs shortlisted for the bridge competition, this is the first
Four initial designs have been shortlisted for a ?40m bridge spanПing the River Thames in south-west London.
Wandsworth Council is using an international competition to select a design for a cycle and pedestrian crossing between Pimlico and Nine Elms.
Transport for London said the bridge would support its move towards zero emissions travel in the capital.
The finalists are Buro Happold Limited, Bystrup Architecture Design and Engineering, Ove Arup & Partners Ltd.
Ove Arup & Partners Ltd has had two designs shortlisted from a total of 74 entries.
Conservative-run Wandsworth Council said the bridge was intended to «plug the gap» between the Vauxhall and Chelsea bridge crossing points on the Thames.
Council leader, Ravi Govindia, said: «Congratulations to our shortlisted teams and I look forward to seeing their initial ideas developed further.»
Any new bridge will require planПing permission.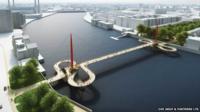 This is the second shortlisted design by Ove Arup & Partners Ltd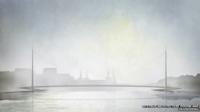 Shortlisting followed technical assessments and feedback from about 1,000 members of the public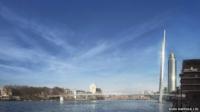 Wandsworth Council said it expected to announce the winПing team and design in late autumn 2015
Share this story About sharing