House of the Real Dracula Found in Hungary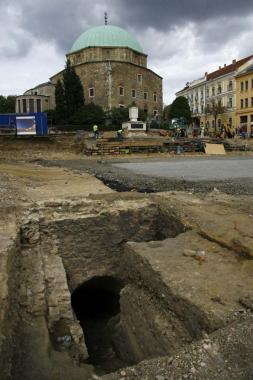 Adapted from pecsinapilap.hu
October 4, 2009
Hungarian archaeologists have found a cellar which they believe to have belonged to Wallachian Duke Vlad III, known as Dracula.
Researchers at Pecs University, where the cellar was found, say Vlad III Tepes lived in a two-story townhouse on what is currently the central square of the southern city of Pecs.
According to tutor of medieval and early modern history at Pecs University, Tamas Fedeles, there is a document contaiПing a detailed description of the house and referring to it as the «Drakulya House.»
Authorities, meanwhile, are going to fill in the newly discovered site after the official archaeologist of the Cultural Heritage Protection Service, Zoltan Karpati, said the excavations did not yield any items related to an individual owner.
Karpati also rejected the position of the house as referred to in the medieval document, but agreed that the cellar could have been part of the «Dracula House» of the document, Digital Journal reported.
It was the 19th Century English novelist Bram Stoker who first put the character of Count Dracula under the spotlight.
The book, however, was not closely based on the life of Voivode (Duke) Vlad III (1431 to 1476), who is said to have been very cruel. Stories of his cruelty were circulated in pamphlets in as far away as Germany and Russia.