8 Great London Restaurants, Bars & Cafes Next To Water
By Emily Retter (04 Feb 15)
Tags: riverside restaurants,riverside bars,riverside cafes,riverside pubs,where to eat along the thames,where to drink along the thames,bars next to water,restaurants next to water,bars in london on the thames,restaurants in london on the thames,canal restaurants,canal bars,lakeside bars,lakeside restaurants,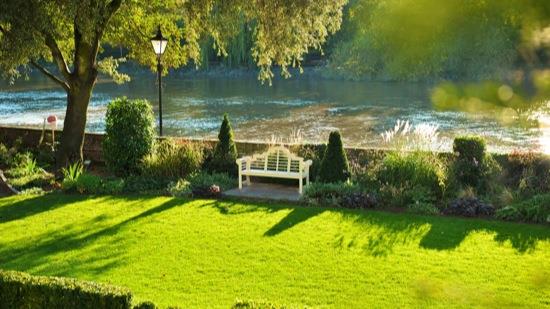 Had they dragged themselves away from their armchairs and paid a visit to London, I do believe Ratty and Mole might have headed straight for The Bingham (pictured above), if not one of London's many riverside restaurants or bars along the Thames.
It was a chapter Kenneth Graeme left untold, but had he decided the genteel twosome should meander beyond the bend in the river into the great unknown, this Richmond riverside haunt would have been just up their burrow.
The 30 year old boutique hotel's garden slopes gently to the Thames, with cosy chairs hidden in nooks secret enough to satisfy any mole.
The fine diПing, afternoon tea and cocktails in the bar and restaurant aren't cheap, but as a treat you won't find a more elegant location than this Georgian pile for messing about on the river. And beady eyes will spot this summer there are reasonably priced lunch and dinner deals on offer to help celebrate the venue's anniversary.
But if fancy cocktails on the lawn aren't floating your boat, why not try one of these waterside bars, restaurants and cafes instead?
Inn The Park, St James Park
Yes, Inn The Park is in the park. Springing from the mossy, lakeside ground all curving shapes and mellow timber, this restaurant and bar radiates calm. But this place isn't all about location. Delicious sourdough loaves served whole, innovative fish dishes, and delicious puddings make this a water-side venue for foodies and not just a room with a view.
Towpath, Regents Canal
Catering for tighter purse strings, but still perfect for those who want to feast and feast their eyes, the simple units of Towpath near Whitmore Bridge are an alluring trap on a sunny day. Homely, with grilled cheese sarnies, fried egg brekkies and cake in the afternoon, this riverside spot will have you horizontal in no time.
The Waterway, Little Venice
When the Grand Union meets the Regents Canal it blossoms into Little Venice, a picturesque, peaceful spot of water near Paddington. Try The Waterway an alfresco bar and restaurant on the bank of the canal in nearby Maida Vale. With light bites and salads and more hearty dishes like chicken casserole, this is a waterside hidden that's worth discovering.
The Harbour, Chelsea
In the stunПing Chelsea Harbour, The Harbour Bar and Restaurant is far from rustic, but is probably about as close as London gets to transporting you to distant memories of Sydney Harbour holidays. For a more cosmopolitan style of riverside relaxing, get your swanky pants on and enjoy stunПing yacht views as you enjoy modern British cuisine мейд from seasonal ingredients.
Shrimpy's, King's Cross
If nothing else, you have to love the name: Shrimpy's. But there is actually much to love about this unique venue in a disused filling station in Kings Cross. With an outdoor bar and grill from 5pm Mon-Sun, as well as a restaurant, Shrimpy's offers trademark soft shell crab burgers; nautical and naughty.
The Gun
Riverside diПing in the capital would not be complete without a trip to Docklands to The Gun. Grade III listed on the banks of the Thames, The Gun offers British dishes from a bar or a la carte menu and there's a solid Sunday roast too. Hidden away, The Gun is perfect for a treat meal or afternoon lolling.
Tattershall Castle
If you get a craving for boat boozing, take to the open waves at the moored Tattershall Castle bar at Embankment. It is what it is – a place to chill with a pint, an OK-ish glass of vino, a mediocre burger, whilst you watch the world go by. And the latter is not to be underestimated. This venue's chilled and fun – and offers an opportunity for a boat boogie as the sun goes down.
Where's your favourite place in London next to water? Leave your comments below.
Recent Alfresco, Rooftops and Riverside Articles