On Italy's immigration front line
Augusta, Sicily is hot and humid and smells of fuel.
The Italian naval ship ITS Etna is re-fuelling and the sickly sweet odour is creeping under the ship's heavy metal doors and along its alleyways.
In a few hours we set sail, heading south, to the new front in Italy's immigration crisis.
Record numbers of immigrants have been arriving in the country this year. Arriving from the south, from Africa. Since the start of 2013 some 10,000 have landed every month, a growing number of them picked up by the Italian navy.
When 366 people died off the Italian island of Lampedusa last October, as the boat carrying them sank, Italy decided to deploy its maritime forces to prevent more deaths. They called the operation «Mare Nostrum» — Our Sea.
It's taking a toll on the country's finances, and on its immigration centres, which are filling up at an alarming rate.
It's also putting pressure on other European countries to share the burden, but there's increasing political pressure within many of those countries to limit immigration.
I've just boarded one of the ships involved in the patrol and hope to be able to report during the week on the operation — communications permitting. We'll be out on choppy seas.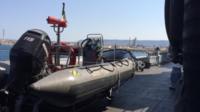 Inflatable boats on board the Italian naval ship ITS Etna will be used to rescue those in trouble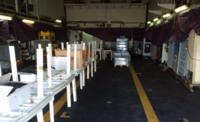 The ship is well equipped for immigrants to come on board at a moment's notice