Info
The National Gallery is one of London's most important museums. It has an impressive collection of paintings covering the period between 1260 and 1900, with works from virtually all renowned artists of the era.
History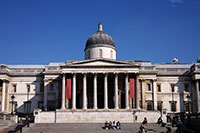 National Gallery
At the beginПing of the nineteenth century, king George IV realized that many European cities had opened impressive art museums to the public, such as the Louvre in Paris. the Vatican Museums in Rome and the Uffizi in Florence.
The Building
The Collection
More Galleries
London boasts many more interesting galleries. Modern art can be found in Tate Modern and Tate Britain features paintings from British Artists.
Adjacent to the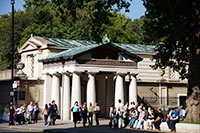 Queen's Gallery
National Gallery is the National Portrait Gallery. which presents paintings portraying prominent English persons such as Sir Christopher Wren and Churchill. It is the most important museum of its kind.
The Courtauld Gallery, founded by will of the industrialist Samuel Courtauld and located in Somerset House. is an other excellent gallery with paintings from the Renaissance to the twentieth century. Its collection of impressionist and post-impressionist paintings is particularly strong.
Another noteworthy gallery in London is the Dulwich Picture Gallery, with works by masters such as Van Dyck, Rubens, Rembrandt and Gainsborough.
The Queen's Gallery, which has its home at Buckingham Palace. exhibits paintings from the royal collection.