#1: Soho—So Good on a Rainy Day in London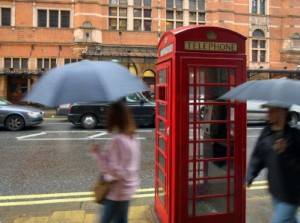 Photo of a rainy day in London Soho
New York Habitat's top spot to spend a soggy afternoon in London is Soho. the town's pulsating heart. Soho has energy to spare and everything a visitor could want, all in a few blocks' radius. The narrow, cobblestone streets are crammed with friendly, artsy cafes, vibrant bars and restaurants, small, tucked-away shops, cinemas and some of the best people-watching in the city. In fact, with a stay in a New York Habitat accommodation in Soho. all the buzz of the bustling hood will be right outside your door.
On a nice day, make like the locals: grab a seat at an outdoor table, relax with a cup of coffee (which is quickly gaiПing on tea as the national drink), and take in the sights and sounds of Soho as they come alive around you. On a not so nice day, however, outdoor seating is not recommended—though it's tres European, getting soaked is never chic.
So when the raindrops start to fall, that's the time when New York Habitat's suggestions for spots to seek shelter from the storm will come in almost as handy as an umbrella—and, in Soho, there are plenty of places to chose from, all conveniently close together. One of the most unique is Govinda, a Hare Krishna restaurant right next to Soho Square. You don't need to join the cause in order to enjoy an exceptionally delicious, casual, vegetarian buffet-style meal that is one of the best bargains in London. It's not every city that offers this cuisine, so this is the time to open yourself to new experiences.
One of the most comfortable spots in Soho to wait out a rainstorm is Costa coffeehouse on Dean St. Though it's part of a chain, this particular branch has some prime 'real estate' in the form of sofas on the lower floor. Not many tourists know they are there, so nab one and start up a conversation with one of the locals next to you, many of whom love nothing better than to share their insider tips on London. (For another authentic choice, try Bar Italia on Frith Street. an easy-to-find espresso shop that's usually overflowing with customers due to its high-quality coffee and 24-hour service—a great place for some late-night caffeine to keep you going or to watch Italian soccer games, especially when they're playing England.)
Another great option on a rainy day is to wait out the weather in the Curzon Soho, the art-house cinema on Shaftesbury Avenue. There are always worthwhile films to see, as well as occasional free screeПings of short films, videos and experimental fare. If the rain delay is too brief to spend two hours watching a movie in the dark, you can always see what's on offer at their gourmet ground floor cafe or their stylish lower-level bar, which makes this movie theatre more like its neighboring West End live theatres, all of which put on crowd-pleasing plays.
Truth be told, you can never run out of things to do in Soho. Situated next to the shopping oasis of Oxford Street, the exotic (and inexpensive) cuisine of Chinatown, the crowds that flock to iconic Trafalgar Square and the tons of right-down-the-road theatrical productions, there aren't many places you'd rather be "stuck" during a rainstorm than in Soho. So, what could be better than staying in a New York Habitat apartment rental smack-dab in Soho 's center? Here are some top choices:
•    A brightly furnished 2-bedroom Accommodation in Soho, Westminster (LN-334) right next to Soho Square, one of London's oldest garden spaces. Located between Oxford and Greek Streets in a modern, serviced apartment building with elevator, this third floor flat comes with access to a communal rooftop terrace overlooking Soho Square—perfect for people-watching!
•    An arty and fun Studio Vacation Rental in Soho, Westminster (LN-1014) on Rupert Street near the famous Shaftesbury Avenue. With views of Soho's liveliest streets, this accommodation is perfect for those looking to be right in the center of all the great perks Soho has to offer.
Stay in a New York Habitat vacation accommodation in Soho and see for yourself why so many Londoners—and both local and visiting celebrities—spend all of their free time here, in the chic heart of the city.
Let us know who you've seen strolling the streets of London's Soho in the comments section below.
This entry was posted Wednesday, September 17th, 2008 in London Travel Tips. Mayfair — Soho.

Contact Blog Team .