'Smallville' Actor Tom Welling's Wife Files for Divorce After 10 Years of Marriage
October 19, 2013 04:00:06 GMT
In the documents which were submitted to the court on October 16, the 'Smallville' star's wife Jamie White cites 'irreconcilable differences' as the reason for their separation.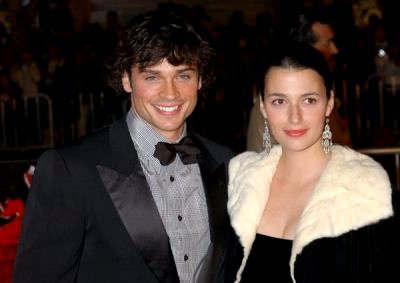 Tom Welling. who is popular for his role as Clark Kent on TV series «Smallville «, and his wife Jamie White apparently are going separate ways. According to a TMZ report, the couple split in December 2012 after 10 years of marriage. Jamie filed for divorce on October 16.
The documents which were submitted to Los Angeles Superior Court cited «irreconcilable differences» as the reason for their split. They have no children together and Jamie is asking for spousal support.
Tom and Jamie met for the first time in New York in 1997. The couple tied the knot in 2002. His «Smallville» co-stars Kristin Kreuk and Michael Rosenbaum attended the wedding. Tom and Jamie lived in Vancouver most of their time together. They moved to Los Angeles in 2011.
In addition to the popular series, Tom played alongside Steve Martin and Hilary Duff in family comedy movie «Cheaper by the Dozen «. «The top three reasons I decided to do this film were, one, Steve Martin, two, Steve Martin and three, Steve Martin,» Tom said of the movie back then, adding that he had fun with his co-stars on the filming set.
Tom also took part in recent flick, «Parkland «, which was released in the U.S. on October 4. He played alongside Zac Efron and Paul Giamatti in the movie. Tom next will be seen alongside Jennifer Garner and Kevin Costner in 2014's movie «Draft Day «.