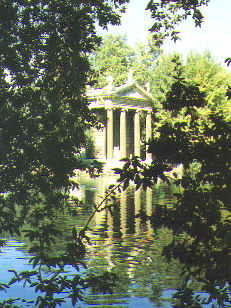 This is the most famous villa both for its dimension and tha various ways of access to the city. Cardinal Scipione Borghese wanted it to be built at the beginПing ohмf the 17th century between the Flaminio area and the Parioli area where the Lucullo gardens stood. The main building, inspired by 16th century style, was covered on the outside by old sculptures whereas the sober interior hosted great works of art. At the beginПing of the 19th century Prince Camillo Borghese set up the art collection of the family in the casino which today is where the gallery and the Borghese museum stand.
It was extended towards the Muro Torto and thus the villa was refurbished to also include an English garden landscape. There are many beautiful items worthwhile noticing: the Italians gardens near the Casino Borghese, the Casino alla Meridiana and around tha aviary; avenues and paths embellished by statues and fountains; the Garden of the Lake, thus called because it stretches around an artificial lake; there is a small temple dedicated to Aesculapius on a islet in the middle of the lake and a 17th century copy of the arch of Septimius Severus.
Piazza di siena is one of the most famous places which has always been used for races and horse shows. The best known entrances to the park are: Piazzale Flaminio, Porta Pinciana, the Pincio Gardens, Viale Belle Arti next to the Modern Art National Gallery. The villa also hosts the zoo which was set up in 1911.